MECCA COSMETICA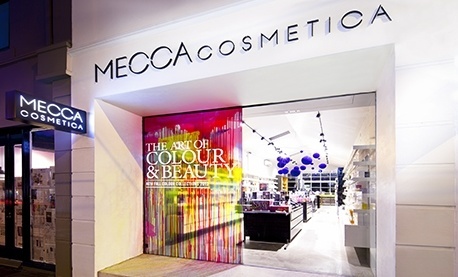 Corporate Office Address: 34 Wangaratta St, Richmond VIC 3121
Telephone: +61 3 9420 7373
Website: http://mecca.com.au/
Mecca Cosmetica brand slogan is: Mecca brings you the best in global beauty across two unique beauty concepts: Mecca Cosmetica and Mecca Maxima.
The company's Cosmetica concept is to bring high class beauty boutiques together with top class service that is supported by offering a collection of the best beauty brands. With a focus on rich artistic colours and high-tech skin care products to some of the best perfumes in the world.
To do this Mecca Cosmetica has to offer a service second to none and has professionals in the beauty world on hand at each location to service the client. These specialists are Makeup Artists, Skincare Specialists and Fragrance Experts and can pamper the customer in every aspect of cosmetics and beauty.
Brands used in Cosmetica include: Nars, Hourglass, Ellis Faas, By Terry, Chantecaille, Perricone MD, Dr Dennis Gross Skincare, Kate Somerville, Frederic Malle, Diptyque, Le Labo, Comme des Garcons, Bumble and Bumble and many more.
Mecca Maxima brands itself as "Blockbuster Beauty" and is more concerned with providing the good and services of beauty direct to the customer through it's chain of beauty outlets.
The concept is to bring the beauty lover her one stop beauty destination, every but everything is in one location for her. The latest and trendy makeup brands together with the best consultation and advice. You can even get your own personal shopping assistant to guide you through the vast range of beauty products on offer.
Brands include: Smashbox, Too Faced, Nars, Hourglass, Bobbi Brown, BareMinerals, Yves Saint Laurent, Philosophy, Clinique, Lancome, Origins, Soap & Glory, Kate Somerville, Clarisonic….and so many more.
Each beauty salon offers associated services as well as the comprehensive store concepts. These include; Events, Makeup Application demonstrations, Makeup Lessons and Masterclasses.
Events
The events coordinated at each salon are diverse and engaging and so popular booking is advisable. They can focus on runway-ready trend celebrations to international beauty experts from around the world.
The events offer a rare opportunity for beauty lovers to get close and meet some of the top experts in the world in the field of cosmetic beauty from Makeup Artists, Skin Experts and Perfumers.
Make Up Applications
This experience is available in every store and it a fabulous service to offer a personal make over for that special event. Sit one-on-one with an in-store expert and have your makeup personally applied as you direct.
It is an ultimate service for everything from special occasions or just to learn new tips of the trade from an expert beautician.
Make Up Lessons
Learn how to apply your own makeup from a professional from the beauty industry. Watch and learn techniques and trade tips to give you that extra special salon look that you can repeat at home.
Masterclasses
A brilliant way to spend a special night with your friends or colleagues, spend a private night at any salon once the store has closed. The salon can be hired for special occasions and once the doors are shut, the wine can be poured and a private night at your favourite store can be enjoyed.
Makeup Artists are on hand to showcase the hottest new trends and styles and also the tricks to apply them. It is a highly interactive evening for everybody involved with applications, demonstrations and plenty of question and answer time.
The masterclasses can be tailored into two types of events;
A social masterclass which is an exclusive evening with friends, colleagues or family. It is really an evening of personal pampering while you sip chilled sparkling wine.
The second masterclass is more for a corporate gathering. It is an ideal way to mix business with pleasure. It can be for a company get together or a special treat for customers. A thank you to show how to perfect their grooming and develop new styles.
Mecca was formed in 1994 by Jo Horgan from her terraced house in Albert Park in Melbourne. It was her brainchild to off the Mecca Concept offering global beauty products and service to the Australian woman.
In 1997 after extensive research in the beauty and cosmetics world Jo Horgan opened her first Mecca Cosmetica store at Toorak Road, South Yarra.
It was the first time that Australian women has access to resident makeup artists and skincare specialists in store. The service was unique offering personal customised makeup applications and also skin care consultations utilising some of the best beauty products in the world.
The Mecca Cosmetica experience is now available across Australia and is one of the country's fastest growing and longest established beauty brands.