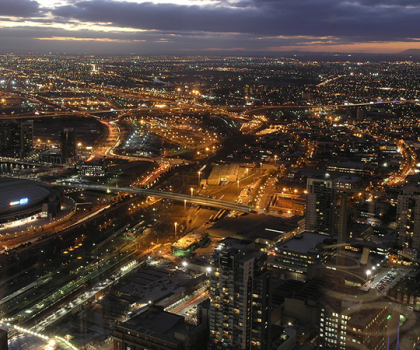 Guide to Chinatown Melbourne
Melbourne like a lot of the cosmopolitan towns and cities in Australia is a melting pot of diverse cultures and peoples.Natives and descendants from all over the
globe have settled in the historic town and added their own particular flavour to the exotic blend.One of the most exciting areas that highlights this cornucopia of diversity is Chinatown.Chinatown is located right in the city centreand starts at the eastern end of Little Bourke Street and extends between the corners of Swanston and Spring Streets.
History
It was in 1851 during the goldrush which attracted Chinese immigration to Victoria on a large scale. Ships arrived in Australia from Hong Kong in search of the "New Gold Mountain".These early settlers started to purchase land in Little Bourke Street and the early buds of Chinatown started to grow.After the gold dried up many Chinese miners started up businesses to cater for the local Chinese and non Chinese markets.
Activities
The original Chinese cabinet makers and lodging hoses have long gone but quaint eating houses and top restaurants have replaced them.Throughout the year many activities and festivals make Chinatown a popular area for tourists and locals alike to visit.The famous 5 arches, a gift from the City have recently been refurbished with modern touches enhancing their stature.
Chinatown Today
Melbourne's Chinatown is the oldest Chinese settlement in the western world and the heritage streetscape has been well deserved with hardly any buildings over three storey's high. In the lanes and avenues linking Chinatown together there are numerous restaurants, noodle houses and Asian grocery stores. Together with, Chinese medicine and herbalist centres, book stores, fashion boutiques and a plethora of other retail arcades such as; the Village Centre, The Target Centre and Paramount Plaza.
Unlike many Chinatowns around the world, in Melbourne there is a more cosmopolitan feel. There is a myriad of cuisines like Thai, Japanese, Malaysian, Vietnamese, European and of course Australian.
Chinatown's Accommodation
City Limits – Boutique 3 Star accommodation with 32 apartments for both
corporate and leisure guests.
Golden Nugget Hotel – Probably the CBD's home of live sport and gambling.
Quest Gordon Place – Right in the heart of Chinatown, 50 studio, one and
two bed apartments.
Rydges Hotel – A large hotel with over 300 bedrooms and pool.
Crossley Hotel – Central Chinatown, complete with gym.
Entertainment in Chinatown
In the very heart of Chinatown this five floor museum includes; a visitor center, an exhibition gallery,a Dragon gallery, interactive finding gold experience.
It retells Chinatown's 200 year old history through artefacts and stories and also has a kids treasure hunt.
East End Theatre District
The East End Theatre District in Melbourne is the main entertainment area for theatre and live shows in the city. It is home to six historic theatres all close together.
Melbourne's Chinatown is a must if visiting the city, it is lively exciting and historic part of a wonderful city.
Getting to and from Chinatown is made much easier with low-cost group transportation services from Melbourne Chauffeur Driven Buses & Limousines.
For more information, contact Graham and the team today!