Sovereign Hill Is Great For A Day Tour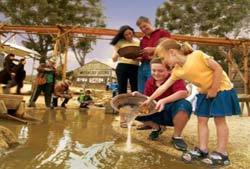 Whenever a family or school group books a day tour to Sovereign Hill on one of our limos, cars or busses we at Melbourne Chauffeur Driven Limousines and Buses are just overjoyed. We know you're going to have a great time and, thanks to us, a safe and comfortable time, and we just love to be a part of that. The vast majority of the reviews for Sovereign hill are positive, and the largest measure of those reviews give it top marks. And of course they do – we all have a strange fascination with the past. With our rural, adventurous periods of history. With the glory days of settling and roughing it out and forming a nation. With the lawless times when a body had to live by his wits and when opportunity abounded for anyone with the guts, the brains and the equipment to set out in search of fortune.
Of course the reality was that these times were usually filthy, disease-ridden, dangerous and violent. And let's not forget the absolute lack of fine French restaurants and flush toilets. Of course, it's not the nasty bits of Melbourne's past that you'll be exploring at Sovereign hill. It's the good, fun bits you'll get to enjoy while learning about what it was like to live back when men were men and even the tiniest scratch could become lethally infected. But perhaps the last line of the owner's description on TripAdvisor is the most enticing advertisement you can read:
"Australia's foremost outdoor museum, Sovereign Hill re-creates Ballarat's first ten years after the discovery of gold in 1851. By day, Sovereign Hill is where Australia's history comes to life! It's just like stepping back in time – from the hustle and bustle of Main Street where costumed ladies and gents parade their new-found wealth, to the excitement of the diggings where you can pan for real gold and it's yours to keep!"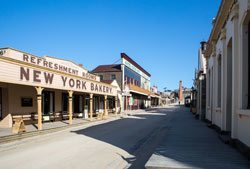 That's right, now only can you learn what it was like to strike it rich you can actually strike it rich. I mean, you will most likely won't become a millionaire. Maybe a dozenaire. But just imagine making a tiny piece of jewelry from a piece of gold you panned yourself. Now imagine you're a child – that's a keepsake you'll treasure forever as a memory of your beloved school or family outing. There's a reason Sovereign Hill always makes it into the top ten lists, I reckon.
There's more to do at Sovereign hill than just pan for gold. It's an entire virtual experience, an indoor and outdoor museum where you can live the past of the 1851 gold rush. And do not forget to check out the sound and light show, it is not something to miss.