Puffing Billy is affectionately referred to as Australia's Favorite Steam Train. I can't imagine there are many steam driven choo choos chugging their way around Australia these days, but if there are they'd be hard-pressed to compete with Puffing Billy's charm. Looking just like the old fashioned train from "The Little Engine That Could", Puffing Billy is both the last surviving train and track from four experimental rural lines cut into the Australian wilderness around a century ago. If you're looking to take a day trip out of Melbourne with your family, a ride on Puffing Billy is absolutely a great choice. The train runs along the original line and is dependent on an army of volunteers dedicated to keeping it running. One of the ways they do that is by selling tickets for all sorts of really fantastic promotions.
The most standard promotion is, naturally, a ride along the old rail line. Fares for a family run between $99 and $131 and there are six departures a day. But they also run regular special packages. Luncheons, dinner dances, murder mystery theme parties, three different musical themed tours and, of course, a valentines day package that I would wager would put a flutter in any lady's heart. And let's not forget Thomas The Tank Engine!
Thomas the Tank Engine is just one of the special trains that comes to visit Puffing Billy's track now and then. Do your kids, or even yourself, love Thomas' silly blue smile? Don't miss a chance to meet both Thomas and the Fat Conductor and go for a truly one of a kind ride that surely beats any shopping mall merry-go-round fakes. Seeing a kid's eyes light up when they first spy Thomas coming 'round the bend is something you'll never forget. They won't, either.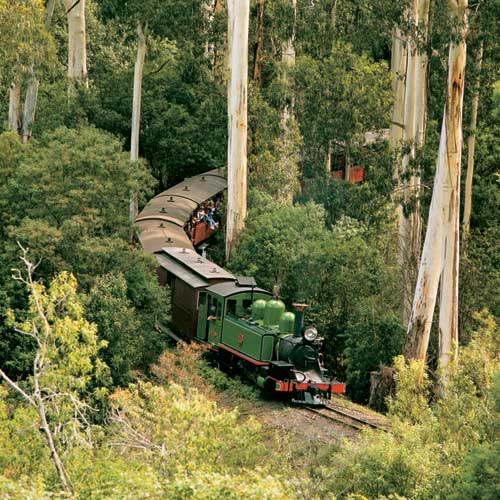 The Best Victoria Family Day Tour
Now, fellas, don't go crazy but I have to tell you something. You can drive a steam train. Yes, it is true, you can actually drive Puffing Billy. Yes, the Puffing Billy volunteers stand ready and willing to rent the engine, track and a passenger car to you for a full day just as long as you are over the age of 18 years and in reasonable physical condition. You are supervised by a real engineer, of course, and expected to take the engineer's instructions. Besides these minor restrictions you are given full run of the train for the entire day, with an itinerary consisting of meals, riding by beautiful views, photo opportunities on trestle bridges and, of course, one thing you can mark off your bucket list that most people miss.
Puffing Billy is a fantastic piece of Australian history that some wonderful people are fighting to keep alive in the most fun way possible. When it comes to a family-oriented day tour out of Melbourne you could do much worse than a day spent on a romantic old steam locomotive. Our expert drivers are waiting to introduce you to Puffing Billy, contact us today and we'll get you set up!
For more information on our fantastic Melbourne day tours, take a look at the following articles: