Chauffeured Limousine Or Bus Day Tours Of Phillip Island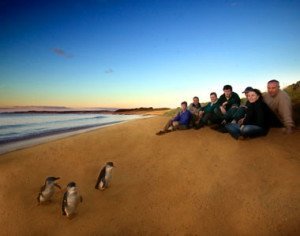 Located 140 km away from Melbourne to the Southeast, Phillip Island has an area of around 100 square kilometres. Perfectly situated for a lazy adventure, Phillip Island has a coastline of 97 km. This little island offers an ideal place to enjoy marine life, hiking, biking and engaging in many other seaside activities. Since it is connected to the mainland town of San Remo with a concrete bridge, this beautiful island can easily be reached by road and makes for a perfect day tour for your group. Phillip Island is quite the popular escape for families and nature lovers alone or in groups. The most well known attractions on Phillip Island are, of course, her natural wonders which are a thrill for anyone who will visit the island to behold them. But there are a number of lesser-known attractions that prove a hit time and time again.
Some Of Phillip Island's most Popular Tour Destinations are:
Penguin Parade – watch as hundreds of little penguins waddle from the beach to their homes in the sand dunes, where they sleep. The viewing area at Summerland Beach has a tiered platform allowing you to sit and enjoy the spectacle in comfort. Viewing the little waddling tuxedoed gentlemen in their natural habitat instead of behind glass at this world-renowned wildlife destination.
Koala Conservation Centre – Truly a unique experience, the Koala Conservation Centre provides you with the chance to come face to face with these living teddy bears in their natural habitat as they engage in their normal activities of being adorable, eating eucalyptus and eliciting coos and sighs from passersby. You can literally walk through their home in this virtual jungle. Talk about selfie opportunities!
Bird-Watching Area – Phillip Island is a true birdwatcher's paradise. In season even people who never considered themselves birdwatchers will be converted by the Mutton Birds that make their burrows on the beach. During the days between late September to late April these birds, who have flown all the way from Alaska's islands, go out fishing. At sunset the swarm in their thousands back home to tell tales of the ones that got away. Many different types of birds come to Phillip Island for their holiday home. Ibis, Spoonbills, Pelicans – the variety is spectacular and dizzying.
Stop At The Moonlit Sanctuary – halfway between Melbourne and Phillip Island, the Moonlit Sanctuary near Tooradin is home to many endangered native species of Australia. Here you can see endangered species, such as dingoes and Tasmanian devils. Moonlit Sanctuary is a wildlife conservation park rightly billing itself as the best way to see Aussie animals. Animal encounters abound during their daylight open hours and their nighttime guided tours.
Beaches – Phillip Island offers many different beaches to choose from. If you like surfing, you must visit the island's southern beaches. If you want to go with your family, choose one of the bay beaches. Sun and sand is not in short supply.
Museums And Galleries – Phillip Island has no shortage of intellectual pursuits, either. The Vietnam Veterans museum is a highly popular choice. Churchill Island is a great trip extension for anyone who wants to learn about the early history of the area, and then there are the many art galleries for those whose appreciation of beauty extends beyond the natural.
With all there is to see and do on Phillip Island, it is an excellent option for a nice long day, or even weekend, with your group. Contact us today for sample itineraries or to book your tour straight away.