Melbourne Bus Charters to Get Your Where You Need to Go
For the best and most efficient bus charter in Melbourne, Victoria and all the surrounding areas, Melbourne Chauffeur Driven Limousines and Buses can supply your every need.
Our fleet is modern, reliable and offers the most up to date on board facilities for our customers with a service second to none. It is regularly serviced and maintained to the highest standards possible. After all, we pride ourselves on our fleet and want to give you a stellar standard of service that will have you raving to your friends.
Our drivers are fully licensed and fully accredited, they have been screened and approved so rest assured you are in safe hands when you travel with Melbourne Chauffeur Driven Limousines and Buses.
Our Bus Charter Services
If you are looking to transport a small / medium group of people to the airport, then we can offer you vehicles to suit your size of party and all their luggage requirements. We have all your requirements covered with our extensive fleet. Perhaps you are looking more for a corporate hire and wish a bus charter to transport your esteemed customers or staff to a special event.
We can take the pressure off organising your transport so that will be one less hassle you will have to remember. Melbourne Chauffeur Driven Limousines and Buses offer you the expertise with comes with thirty years in the industry. We pride ourselves in service, comfort and of course safety. Our prices are some of the most competitive in the industry so you can be assured of the right pricing.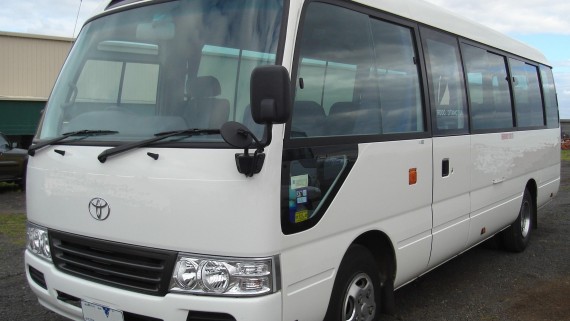 TOYOTA COASTER (20 pax)
For the smaller bus charter this vehicle is perfect for groups of up to twenty people, and with our trained drivers they will take the stress and strain of getting to your destination on time.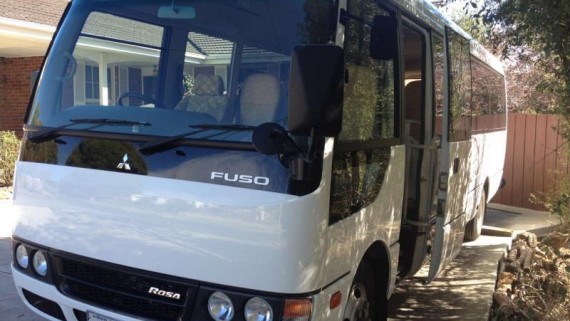 MITSUBISHI ROSA (24 pax)
Let you and your party of up to twenty four people travel in luxury aboard or new Rosa's. The bus is ideal to give you flexibility of a bus charter with the comfort of a limousine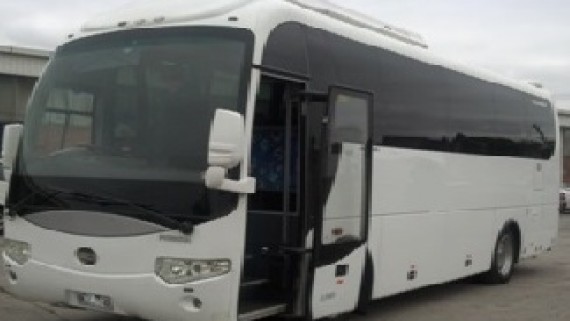 MEDIUM EXECUTIVE COACH (34 pax)
A fairly recent addition to our fleet is our new medium size MAN buses, they are perfect for larger parties and those bigger jobs in bus charter. These vehicles are perfect for longer journeys with extra legroom and added luggage space. All mod-cons are on board to give a relaxing and ultra comfortable journey to the passengers.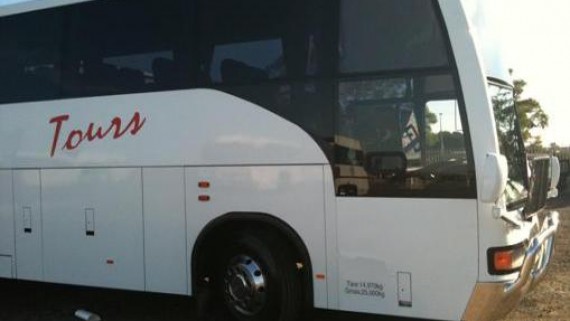 LARGE EXECUTIVE COACHES (48-57 pax)
For those big events and designed to move numerous passengers efficiently and without problems, charter one or more of our large executive buses. No job is too large for our fleet to transport bigger groups to concerts, sports events or longer touring trips.
Ready to book our bus charters throughout Melbourne?
Getting to or from any of Melbourne's numerous conference centres could not be easier than chartering one of Melbourne Chauffeur Driven Limousines and Buses. The large variety of vehicles available will suit any group size no matter how many passengers you wish to transport.
Our chauffeurs are ready to go, and will provide you with top-quality, professional service every single time. When you are ready to book your service throughout the city and all its suburbs – whether to and from the airport, or between a special event – please do not hesitate to contact our friendly team. We're here to help, and will do so with a smile.
Contact us today on +61 3 9016 3736.